Product Overview
MulePAC is the ultimate solution for transporting and storing all classes of military supplies to, from and within theater all the way to the last tactical mile.
Made of rugged and nearly indestructible plastic, MulePAC is a portable all-mode container built to withstand even the toughest military environments. A patented modular design makes MulePAC (U.S.Patent No: 8,146,771 B1) lightweight, collapsible and stackable without compromising on its incredible strength or durability. When using MulePAC, you can trust that your military equipment is safe.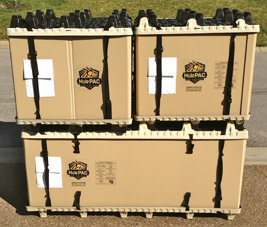 All-Purpose
Since 2005, the MulePAC system of logistical building blocks has been significantly tested and proven for all modes of military transportation, all classes of military supplies, and for use in deployment and sustainment operations. Whether you're looking for a cargo box to be used on the road, rail, sea or air, MulePAC fits the bill. It is forklift or sling-loadable, and has proven to significantly outlast cardboard and all other similar size containers.
See All All-Purpose Containers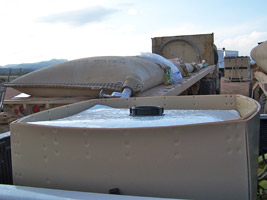 Water Boxes
MulePAC Water Boxes are built to carry either 125 or 150 gallons in rugged and extreme conditions. They can both be delivered via LHS flat-rack, helicopter, or HMMWV, reducing or eliminating the need for purchasing, transporting and maintaining 400 gallon water buffalo trailers. Using MulePAC and MulePAC Water Boxes, several days' of critical military supplies can be delivered more efficiently and easier than similar cargo boxes and water containers.
See All Water Boxes